The Vatican Museums holds some of the most incredible art pieces in the world.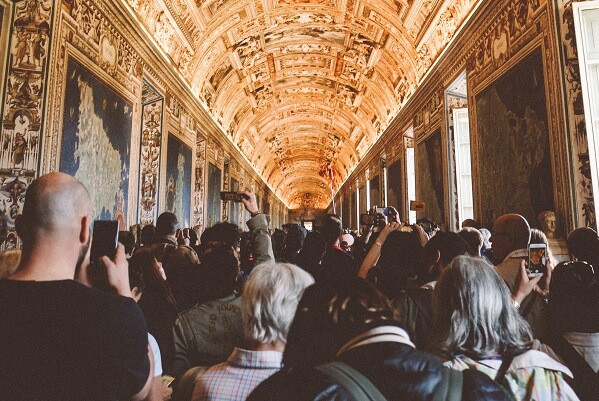 You can see the Vatican Museums in the smallest city in the world, Vatican City. Exploring these museums can take anywhere between three to four hours. It's recommended to have a guided tour of the museums. This way you can learn so much more about the paintings and history.
There are also many different tours you can do to explore the Vatican Museums and other parts of Vatican City. We'll go through some guided tour inclusions in this blog.
Tour guide
A guided tour comes with your own tour guide! Your tour guide will teach you about the history of the Vatican Museums. You will also learn and hear stories about the impressive artwork. When you have a tour guide you can ask any questions about the art or the Vatican Museums.
Skip the line tickets
Your tour guide will organise skip-the-line tickets. These are huge time savers. The queue to get into the Vatican Museums can sometimes be very long. With these tickets, you skip the queue which means you don't have to wait as long.
You'll see famous artworks
Tour guides are experts who know where to find all the important pieces in the museums. In no time, you'll be looking at some of the most famous artworks. One of the most famous works is the Sistine Chapel ceiling which Michelangelo painted. There is a lot of artwork to be explored, so you might not be able to see it all!
The artwork's history
Many people don't know about the history behind these beautiful art pieces. It's so fascinating to hear the stories and history behind the artwork. You'll, for example, learn a thing or two about the paintings that Da Vinci, Raphael, and Michelangelo worked on.
Tours
You can book a private morning or afternoon tour of the Vatican. If you don't mind having other people on the tour, you can do the morning or afternoon general tour. This tour takes you through the Vatican and Sistine Chapel. During this tour, you'll enjoy around three hours in and around the Vatican Museums, St Peter's Basilica, and Sistine Chapel.
Before your guided tour of Vatican Museums, ensure you are wearing appropriate clothing. The Vatican Museums has a strict dress code. It's best to wear clothing that covers your shoulders and knees.
Are you ready to explore Vatican City and all its wonders?